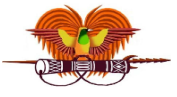 NATIONAL COURT OF JUSTICE
WAIGANI
Summary Determination List: Civil Court 1
Notice is given to all parties listed below that pursuant to S. 15(1) (c) of the listings Rules 2005, your matters have been listed for Summary Determination by the Court on the date and times as indicated. If you wish to maintain the proceedings, you or your lawyer must appear before the National Court at Waigani and show cause why your matter should not be summarily determined.
Please attend to the Court to advise if you desire to maintain case of action. For any queries, contact Theresa Hani or Manau Timo or Adam Ailabain on ph: 324 5847 or on email This email address is being protected from spambots. You need JavaScript enabled to view it. , This email address is being protected from spambots. You need JavaScript enabled to view it. or This email address is being protected from spambots. You need JavaScript enabled to view it. .

Download Summary Determination List: Civil Court 1 - June & July April 2020
JUSTICE POLUME-KIELE.
---
CORAM: POLUME-KIELE, J COURT ROOM: 09